Oh my goodness, what a hot one we've had this week!

Why couldn't it have been last week when hubby and I had the week off to spend at my sisters' holiday home in Norfolk?

That week was spent mostly in the rain!

Had an email from my sister last night saying they'd had a lovely day at the Sandringham flower show, and had come within about 2 feet of Prince Charles.

Sadly she wasn't brave enough to shake his hand.
I've been back at work this week and seem to have spent a large part of my time sitting in the car, overheating.

I drive a lot for my job, and a lot of the driving I do is in London...... not fun at the moment as the Olympic lanes came into operation earlier this week.
Thankfully today I didn't have to go into London, but down to the south coast instead.

It was lovely driving through the New Forest, but as you can imagine, it was slightly warm in the car!
So I've been busy at work this week, and am about to be busy on the stitching front as well.
I'm taking part in the Ravellenic Games on Ravelry, which start tomorrow evening to coincide with the opening ceremony of the Olympics.

The idea is that you challenge yourself to knit or crochet a project and have it completed by the closing ceremony (I think!)
Anthropologie Eden Tunic
I'm going to use a Doris Chan pattern, the Multi-Tone Shell, and add some crochet flowers at the hemline.
I have my yarn already wound into balls, but the pattern download I purchased earlier this afternoon hasn't arrived in my inbox yet!
I've also got a couple of sewing projects that I hope to start over the next few days – or one of them at least.
I was passing a local charity shop the other day and saw what I thought was a very pretty maxi dress in the window.

I went in and enquired about it only to find it was actually a jumpsuit.

I was a bit disappointed, but it was only £6, so I thought I'd give it a go.

Sadly it looks awful on me, but there's plenty of lovely fabric in it, so I'm going to use it for an Alexander blouse from Burdastyle.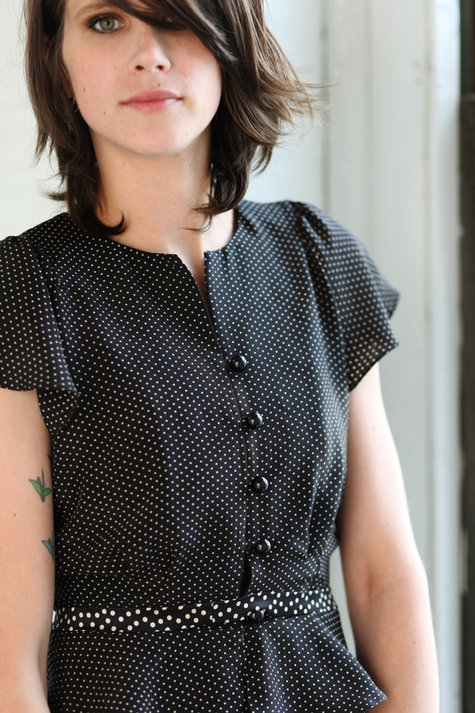 This is a quick shot of the fabric, I love the flowers strewn over the striped background.
I have the pattern downloaded, taped together and cut out.

I just need to unpick or cut apart the jumpsuit now.

I'm hoping that I can get away with cutting the seams off, and don't have to unpick them all.
My other immediate sewing project will be a peplum top and skirt using New Look 6130, that I mentioned in my post about peplums last month.
I'm mixing and matching a bit with the top, doing the neckline of View B and the shaped peplum of View C.

For the sleeves I've drafted a tulip sleeve, using this tutorial from Sew Many Seams.
I'll be using this polyester crepe fabric.
I had earmarked it for a Simplicity Cynthia Rowley dress, but I like the peplum top and skirt better. I need to have this outfit completed by 18th August, as I'm planning on wearing it to afternoon tea at Luton Hoo, for a friends 50th birthday celebration.
Aerial shot of Luton Hoo.
This is the drawing room where they serve afternoon tea.
I think these stitching project should keep me busy for the next few weeks! I'm sure by the time I've finished them the list of the next few will be increasing, like it usually does!