Firstly, let me say you'll probably see quite a few dresses here, because I LOVE dresses.

They're so comfortable, you don't have to think about which top goes with which bottom, you don't get nasty waistbands digging in all day and they can be anything and everything from the most casual to the most formal garment you can imagine.

What's not to love?
So, I thought I'd post a little bit more about the Burdastyle Danielle dress in my last post, and also show you another dress I've made recently.
The instructions on the Burdastyle website say you need 1.9m of fabric.

I had one metre of some lovely John Kaldor polyester crepe, but I was desperate to make a dress from it.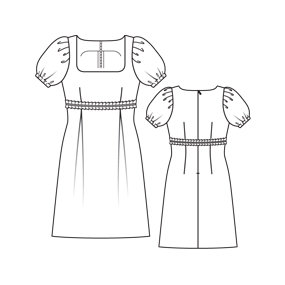 Admittedly the pattern includes puffed sleeves, but even omitting them I knew I'd be cutting it fine,

and I was!
I used virtually every scrap of the fabric I had to make this dress, and had to make some alterations to the pattern to make it possible.
After fiddling about for ages trying different layouts of the pattern on the fabric I was getting desperate.

There didn't seem to be any way I could fit it all on, and I didn't really want to buy any more.
Then I had a brainwave, perhaps I could redraft the bodice front, changing the darts to princess seams.

I wasn't totally sure this would work, so I dug an unsuccessful skirt out of my "what shall I do with this?" pile and set to work making a muslin of the bodice out of it.

And it worked, albeit with a few alterations.
And, even better, when I laid the pattern pieces out on my fashion fabric, they fitted!!!
I omitted the sleeves, which I would have done no matter how much fabric I had.

Puffed sleeves and me don't really go that well!
In this picture you can just about see the seam that runs up the bodice, but because of the busy print it's not really that noticeable.
I changed the back zip to a side seam zip, as I didn't have a long enough zip to hand. I think I like it better like that anyway, and it makes it an awful lot easier to do up by myself.
The bodice is fully lined with the muslin I made to test the bodice.

I debated putting some cap sleeves in using some navy lace I have in my stash, but decided that it would make the dress too formal, and I really wanted something I could wear for everyday.

I then decided to finish the armholes with navy satin bias tape.
The second dress I'd like to share with you is based on this dress from Anthropologie.
A few weeks ago this very dress formed a discussion on Ravelry as to how it could be recreated and I decided to give it a go.
I already had some perfect fabric in my stash (again John Kaldor and again only 1 metre, why do I only buy 1 metre at a time?!), but for this I knew it would be enough.
I also had what I thought would be the perfect pattern – Butterick B5211.

One of the views even has a seam across the bust, although this proved to be too low for my purposes.
The yoke is knitted using the directions for the mesh portion of
this top
in 100% cotton yarn.

I made some modifications to the number of stitches I cast on, as my gauge was different, and made the yoke 6 inches deep front and back.

The front edge I finished with a row of crochet shells to neaten it a bit.
The rest of the dress came together very easily, using French seams for the side seams and omitting the back seam, as the dress is loose enough to slip over my head.

I neatened and hemmed the top edges, carefully pinned the yoke in place, tacked and then sewed in place using my machine.
I'm really pleased with the result I achieved with both these dresses.

I'd love to know what you think of them!